For My Heart. My Soul, My Elvis. October 26, 1997 – October 1, 2013
I often speak of Dogs. Dogs that I love. Dogs for whom I have great affection.. While it is true that they all have a place in my heart, there is but one Dog who owns it. She wears the crown that sits atop my heart. She has worn it always. She wears it still. My Queen with a Kings name. My Elvis.
Friends, it is with unfathomable sorrow , and what remains of an already broken heart that I must say: "Ladies and Gentlemen, Elvis Has Left The Building." My dearest friend and constant companion has taken flight, and for me, the world shall never be quite the same.
I held her in my arms, whispered in her ear, and placed gentle, tear filled kisses on her tired eyes until she drifted away. My heart and body ache from our farewell.
As I stand in the park at what was our favorite spot, I look to the sky and weep. I remove my hat with one hand, and blow a kiss toward the Heavens with the other, as I whisper goodbye into the wind. The blue of this evenings sky seems somehow more luminous, yet here on the ground, the soulful blue of heartache is palpable. The once vibrant presence of my blue Dog is gone, and in her absence, there is a deafening silence.
If you had told me back in 1997 that I'd be living with anyone, or anything for the next 16 years, I'd have said you were crazy! As always, Elvis proved to be the exception to the rule. While I didn't think so at the time, Elvis is the greatest gift I have ever received. At a mere 5 pounds and 7 weeks old, she was sickly as she was a puppy mill dog. It was December 20th, the weekend of a huge snowstorm, so I said she could stay with me for a couple of days as she had nowhere else to go. I stayed up nights nursing her back to health, and slowly, she became well. She began responding to the name, "Elvis" which I was calling her jokingly, as her little lip was always stuck up over her teeth, not in a sneer, but in a smile! As I insisted to friends that she needed to find a new home, I recall them looking at me and grinning. It was clear they already knew what I didn't. E's unique coat of spots and stripes, and her one blue eye and one brown eye, had me love struck at first sight! On Christmas Eve, I decided she was here to stay, and our long and happy life together began…
As a pup, Elvis was a troublemaker with a capitol T! We were a perfect fit from the get-go! E's lust for life, comical nature, and unwavering loyalty and affection for me, and for those she loved, are only a few of the attributes that made her a remarkable Dog.
2 months after Elvis came into my life I was diagnosed with Cancer. I can state without doubt that because of this new found love, I was determined to get back on my feet faster than I might have, and to beat the Devil…which I did. Our beginning significantly bonded us, and we remained "a pack of two" in the purest and truest sense for the next 16 years. The world around us was ever changing, but we were a constant.
Sincere. Solid. Unfaltering. Unshakeable.
Elvis' uncanny grasp of vocabulary (even my slang) was often a source of wonderment, both to me and to others! E, being the "Einstein" of the dog world, made it a pleasure for her to accompany me wherever I went. Work, family gatherings, Sunday drives, you name it! Where I went, Elvis followed. It became second nature, and it was on rare occasion that I'd be seen without my cherished companion..
E's perpetually wagging tail and confident charm made her a welcomed guest everywhere. Affectionately referred to around the neighborhood as "The Mayor," and more recently "The Grande Dame," she was a trusted friend, and beloved by all who knew her. While carrying her trademark Tennis Ball on our daily walks, she always made a point to stop and happily greet the neighbors, and along the way, she taught me a thing or two about stopping and smelling the roses.
Our longevity and mutual adoration for one another was the stuff that dreams are made of, and I consider every moment a treasure. She loved me. She healed me. She kept me safe from harms way. I have never felt about another living thing, the way I felt for her.
In her younger years, a typical day consisted of Elvis visiting the residents of the nursing home down the block in the morning, The Mailman placing the mail in her mouth which she would then carry home in the afternoon, and standing on her hind legs and pushing the revolving door to my building round and round with her front paws for residents when they came home from work in the evening! She knew how to do the "Hokey Pokey" ( I wish I had it on video) behaved perfectly on and off leash, and performed many of the tasks that a trained service dog could do. While weighing just 50 pounds, Elvis was the toughest Dog at the park! She had a particular affection for children and the elderly, and was adored for her sweet and gentle nature. E was a champ at fetch and agility, and raised more eyebrows than I could ever count by simply, yet amazingly understanding everything I said. The fact is, if she didn't know how to do any one of these things, I would have loved her just the same. But she did know. She knew plenty.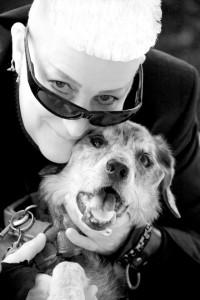 How lucky we were to have shared such a grand relationship, and for her to have led, what I hope she would have agreed to be, a charmed life at my side.
More often than not, I have learned life's lessons not from textbook tutorials or fortune cookie cliches, but through the wisdom of a Dogs eyes. For me, a walk in the rain with Elvis at my side and Octobers falling leaves at our feet, usually provided the guidance and resolve I sought. No words necessary.
I have had the extraordinary good fortune to have captured "lightning in a bottle" for almost 16 years. It has now been set free. So, the next time your dog is afraid of thunder and lightning, just tell them its Elvis, telling them to be brave, and to sit back and enjoy the ride…
It was Elvis that made my house a home. My life is richer having had her share it with me, and I am a better person for having known her. The simplicity of a life well lived has forever changed me, and my spirit is stronger, as hers is now part of my own.
Brave, honest, loyal, and true. Residing in the pleasure of her company these many years has been sublime.
Wherever it is that the spirits meet up, I hope Elvis finds her way to the light of my Mother, Sister, Aunt, and Best Friend. These were some of Elvis' very favorite people, as they were mine, and I hope she finds comfort in their loving and welcoming arms. I like to think that my five girls are somehow all together now…amidst the Moon and Stars.
Both in this moment, and in memory, I love you Elvis.
Happy Trails Good Dog.
Thanks For Everything. ♥
P