KISSES………..
What a wonderful journey we've had.  From the gorgeous little fluff ball we first laid eyes on at 3 weeks old to the beautiful, hand-picked champion you became.  With a mom named Ariel and a dad named Hawkeye, we knew you were meant for our family. You would complete the pack.
Out of 21 pups all in their respective pens, you captured the eye of your daddy with your kisses and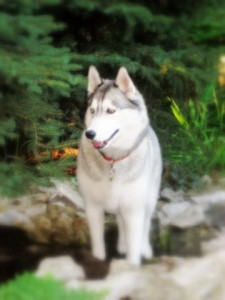 your charm and he never let you go.  Though you technically were already promised to someone else, there was no doubt your connection made it clear, you belonged to us! 
Grandma Carol and Grandpa Mike's (Kortar Kennels) is located in Kemptville Ontario near the Hershey Chocolate Factory.  Having spent the afternoon with you kissing and sleeping in your daddy's arms there was no doubt your call name would become…Kisses!  In addition, you were our lion cub, our munchkin, rhaspy  lounge singer, Kisser Disser and Kissaroonee.  But your registered name was Kortar's Kissin Kousin. 
We brought you home on a wonderful mid-March 2003 day.  You and your big sister, Cubby who was not even a year old herself, cuddled together in the car on the 4+ hour ride home.  Your bond with her was incredible.  She was your comfort from the mom you left behind.
You have been on a tremendous journey with us Kisses. I can't even begin to write it all.   First there was the leap that broke your tiny leg needing a micro-orthopedic surgeon to repair.  We drove holding and loving you for 12 hours while in a cast.  Getting you home for the best of care we could find was the priority.  I carried you as my "accessory piece" for 8 long weeks in the leash free park so your sister could run and you could heal.  And heal you did.  I still remember your first stride across the park as I set you free.
Then there was the Escalade seat chewing.  You were only 8 months old when Jeff's life took the worst turn and we had to hospitalize him while you waited for hours in a car, snug with your big sister.  
You endured  knee surgery, again through rehabilitation and physical therapy you would once again run free and play leap frog with your big sis as I would clap and say "go huskies go"!!!
There were so many happy times together Kisses.  The best trip we ever made was because "our girls" were with us along the shores of Cape Cod.  You and Cubby grabbing at crabs in the water as they scrambled to get out of your way.   Just our daily walks together, walkin and a talkin made it all special.  Then there were the days when we'd howl to the park and call your daddy while he traveled so he could hear his girls.  You were there for all the important events and travels.  How about the day you rolled in poop at the leash free park marking your spot and we had to drive home with the windows wide open.  We welcomed a daughter into our family.  We added another furry friend and we added the precious gift of a granddaughter.
You made all of us proud Kisses.  Your dad took you to obedience classes knowing his challenge of having another top dog in the class.  Though you fell short in points of your big sis, you perserved and made it to the top!  We went through 4 levels of obedience, agility and rally.  
Your incredible instincts always put you in front of the pack.  Your obsession with horses was only more profound in the arena of a horse farm while enjoying an agility class.  The way you completed your tasks with such accomplishment and pride in your eyes was an incredible sight.  Your gorgeous gate always demonstrating your show qualities was something to behold.  
The testing we did together to become Canine Good Citizens and Therapy Dog International was amazing.  Our walking the floors of the Patrician Nursing Home together to visit my mom and so many who loved sharing stories of their beloved pets was always special.  Our visit to your friend Jim in the hospital in Mississauga, Ontario was just another one of your giving graces.  Our return to the U.S. added spending time at Delnor Hospital to add a smile to grieving faces with you always wanting to please.  Then there was Reading with Rover and the enjoyment you brought to many children who were challenged to read a story.
But most of all Kisses for the unconditional love, support and guidance you have given to this family and especially me.  You've taught me so much about love and trust.  Love never expects anything in return.  You were always there in the best and worst of times for me.  You comforted me with your warmth and always made me take another step on life's path.  Your work is done.  You have fought hard Kisses.  You have been the "miracle dog" for over 2 years. I hope you know how proud of you we are for the wonderful job you have done.  So many things I will miss about you.  You will never be gone.  My heart could not allow that to happen.  I could write and write and write but I could never complete the story.  You've done that all by yourself.   As you pass over the Rainbow Bridge Kisses know that I will someday look for you to greet me and bring our journey full circle.