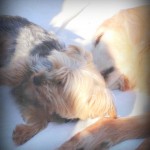 Everybody wonders if the surviving members of the furry clan will be traumatized by witnessing the euthanasia of their buddy. Animals are incredibly sensitive and intuitive. They are very in touch with how they are feeling and how others around them are feeling. When they are strongly bonded with their human family, they pick up on how we feel and act accordingly. They usually know already that their buddy is ill and is ready to make their transition. Often times, they have stopped their usual routine with them a few days or weeks before their buddy transitions. They know, adjust and accept. They aren't really concerned with "how" their friend's transition is going to happen. They just know it will. What we can do to honor the bond they have with their friend is to allow them to, at the very minimum, see the body of their buddy after they have transitioned so they can have some closure. After visiting with their body, they will know that their friend has passed. Allowing them to visit once their friend has passed is what is most important. Whether or not they are present during the actual euthanasia is really more dependent on the personal preferences of the family, whether or not they will be disruptive, etc.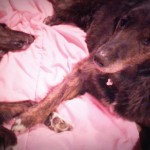 In the photo to the left, Bella takes a quiet moment of respectful silence as she visits with her littermate, Walter. They spent their entire lives together. Bella is known in her circle as being very active, affectionate and she never sits still. Everyone who knows Bella is absolutely shocked that she is actually sitting quietly for any amount of time while she visits with Walter after his transition. She had a strong bond with Walter and deserves this valuable time with him.
Helping our companion animals transition really is a family event. It's respectful and sweet to allow anyone, including the other animals in their life, to say farewell in their own way.